Products reviewed:
Best for Work: ROMOSS 60000mAh High Capacity Power Bank
Best for Travel: Anker 747 Power Bank (PowerCore 26K for Laptop)
Best Budget: INIU Power Bank, 25000mAh/65W USB C Laptop Portable Charger
Best Splurge: Omni 20+ 20000mah Laptop Power Bank
Best Overall: Baseus Laptop Power Bank, 100W Blade USB C Portable Laptop Charger
Are you tired of running out of battery on your laptop when you need it most? If you're someone who needs to stay connected and productive on the go, the limited battery life of most laptops can be a real challenge. But don't worry, we've got you covered.
In this blog post, we'll be reviewing the top 5 best power banks for laptops on the market in 2023. We understand that choosing the right power bank for your laptop can be a daunting task, especially with so many options available. That's why we've done the research for you. We've analyzed customer reviews, personalized user experiences, and manufacturer claims to come up with the best possible options for you to consider.
Whether you're a student, a remote worker, a business traveler, or just someone who needs to stay connected even when they're off the grid, there's a power bank for every need and budget. We'll uncover our top picks in detail so you know which one suits you best.
So, are you ready to say goodbye to dead batteries and hello to on-the-go productivity? keep reading for some worthwhile laptop power banks!
How do we choose the best power banks for laptops?
Capacity: When picking a power bank, its capacity should be a top priority. This determines how much charge it can supply to your laptop. Make sure to select one with enough capacity to suit your needs.
Output Voltage: The output voltage of the power bank must match the voltage requirement of your laptop. Choosing a power bank with the wrong voltage can cause damage to your laptop.
Compatibility: Keep in mind that not every power bank is designed to work with all laptops. To avoid disappointment, be sure to verify if the power bank is compatible with your specific laptop model before making a purchase.
Size & Weight: If you're looking for a power bank that you can carry with you wherever you go, portability is an important factor to consider. Keep an eye out for one that's both light and small in size, making it easy to carry around wherever needed.
Number of Ports: If you have multiple devices that need to be charged, opt for a power bank featuring numerous ports, letting you power up multiple gadgets simultaneously.
Brand and Quality: To ensure the long-lasting nature and dependability of your laptop power bank, make sure to select one produced by a well-established brand using top-notch components.
Price: Lastly, ponder your budget constraints while picking a power bank. It's crucial to invest in a high-quality power bank; however, avoid overspending. Look for a power bank with an ideal blend of functionality and affordability.
By considering these factors, you can choose a power bank that is the best fit for your needs and budget.
Now that you know what to look for in the best portable laptop chargers, let's get straight to our top five picks for 2023!
Best for Work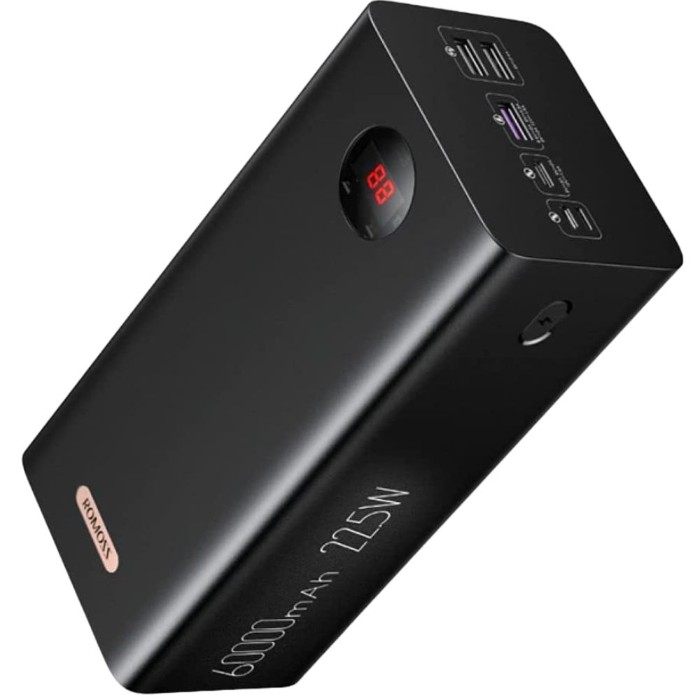 Why we love it
The ROMOSS 60000mAh Power Bank offers an incredible solution for charging laptops and other devices while on the move. This ultra-high capacity portable charger ensures you stay productive, no matter where you are. Featuring 4 output and 3 input ports including a USB C port as well as multiple USB A ports, it allows for simultaneous charging of multiple devices such as your laptop, iPad Pro, and smartphone.
Not only does this power bank have the exceptional capacity, but it also boasts fast charging technology, ensuring your devices are recharged at lightning-fast speeds. Furthermore, its compatibility with various charging cable models means it's an adaptable and trustworthy option for powering several gadgets at once.
Experience a seamless charging experience with the ROMOSS 60,000mAh High Capacity Power Bank, making it the perfect companion for any working individual.
What you should know
With a stellar 60000mAh capacity, this power bank might be a bit bulkier than its competitors, but it easily fits in your backpack or handbag. While you can't use both input ports simultaneously, it still delivers versatile charging solutions for your gadgets.
Capable of charging an iPhone 14 over 12 times, a Samsung S22 10 times, and an iPad Pro more than 5 times, this powerhouse is an ideal companion for busy individuals who can't afford to be disconnected.
In a nutshell, the ROMOSS 60000mAh High Capacity Power Bank is a must-have for anyone needing constant connectivity and productivity on the go.
Best for Travel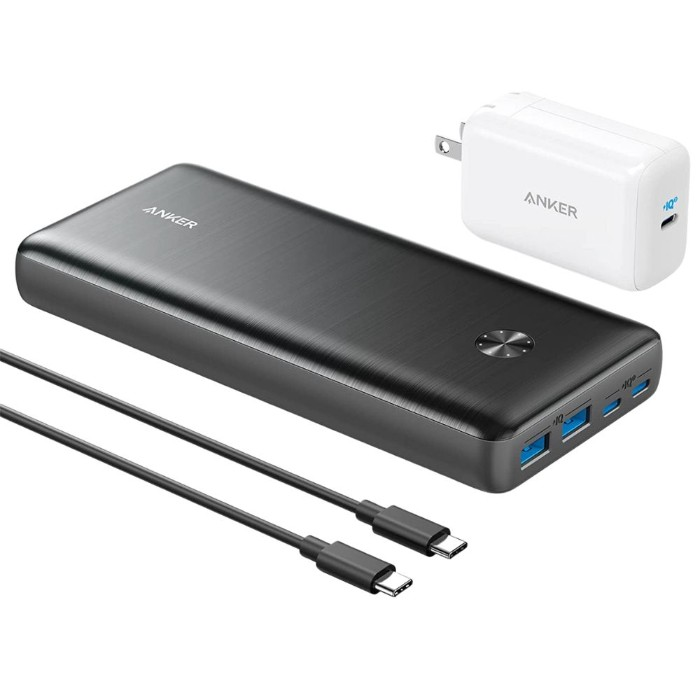 Why we love it
If you're a traveler who depends on electronic gadgets, the Anker 747 Power Bank is an essential accessory to have in your arsenal. Boasting an impressive 25,600mAh capacity, this portable charger keeps your devices powered up for extended periods, making it ideal for those long flights, camping trips, or other outdoor adventures.
What sets the Anker 747 apart is its incredibly fast charging capability of up to 87W, enabling you to recharge various laptop models such as the MacBook Pro and Dell XPS in merely a few hours. Additionally, the dual USB-C ports enable rapid, concurrent charging of two devices, while the two USB-A ports (with a total output of 78W) allow you to power an additional pair of gadgets.
Despite its powerful capabilities, the Anker 747 Power Bank is lightweight and compact, making it easy to carry with you on the move. Plus, the included travel pouch ensures it remains protected and organized throughout your journey.
What you should know
The Anker 747 Power Bank is a game changer for travelers, offering rapid recharging capabilities and a powerful battery capacity. With a mere 2.5 hours needed to fully recharge using a 65W wall charger, it leaves other options in the dust, which can take up to a staggering 17 hours for the same task.
Featuring an impressive internal battery, this power bank has the stamina to power up your iPhone 13 Pro up to five times, breathe life back into your Galaxy S20 over four times, and even give your MacBook Air 2020 a full charge in no time if needed. To maximize charging speeds, it's essential to use the provided USB-C to USB-C cable, since it can deliver an incredible 87W, while alternative cables may only offer a measly 30W.
Focused on customer satisfaction, Anker's 18-month worry-free warranty gives you peace of mind knowing that you're covered in case of any issues.
All in all, the Anker 747 Power Bank reigns supreme as the ultimate travel companion, combining high capacity, swift charging, and multipurpose capabilities to ensure your gadgets remain charged and ready for action whenever, wherever.
Best Budget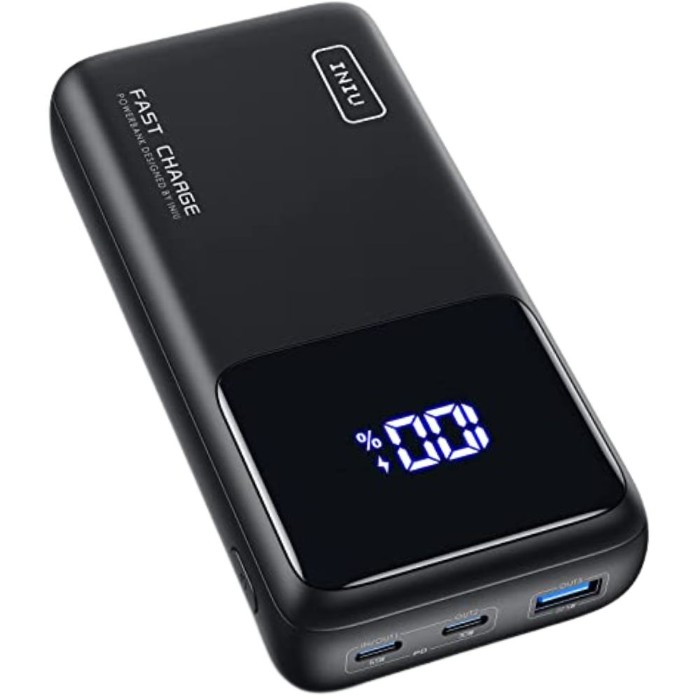 Why we love it
If you're looking for an affordable yet top-notch laptop charger, the INIU Power Bank is the perfect solution. With an impressive 65W rapid charging ability, this portable charger can juice up your MacBook Pro by 50% in just half an hour!
The 25,000mAh battery capacity ensures that you can power up your 14-inch MacBook Pro 1.2 times or your iPad Mini 6 up to 3.4 times, making it ideal for long road trips or those hectic workdays.
Plus, the built-in phone holder adds convenience, enabling you to comfortably view your phone while it's getting charged.
What you should know
The INIU Power Bank offers an exceptional charging solution for those constantly on the go. With the capability to power up three devices at once, its versatile triple-port configuration includes two USB-C and one USB-A outlet. This compatibility extends to a wide range of laptops, tablets, mobile devices, and even smaller gadgets like AirPods.
Not only does this handy power bank cover a broad spectrum of devices, but it also delivers fast charging, ensuring you don't miss a beat. The cherry on top is its impressive 3-hour full recharge time, guaranteeing you're never left stranded without power for too long.
All in all, if you're seeking a trustworthy and budget-friendly portable laptop charger to keep your devices juiced up, you can't go wrong with the INIU Power Bank.
Best Splurge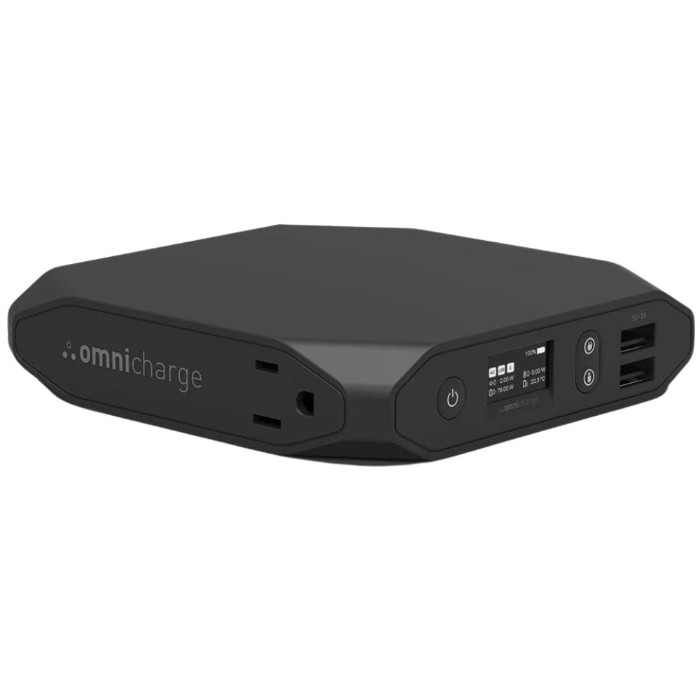 Why we love it
If you're searching for the ultimate power solution for all your devices, look no further than the luxurious Omni 20+ Laptop Power Bank. This versatile charger is perfect for those who need to rely on a trustworthy charging source for multiple devices, such as laptops, cameras, drones, smartphones, and more.
The impressive 70wh battery capacity of the Omni 20+ ensures rapid charging with superb efficiency, so you can power up your MacBook Pro, Surface Pro, or other gadgets in no time. Say goodbye to slow charging speeds and hello to a lightning-fast power source.
What's even better is the sleek and compact design of this power bank, making it incredibly portable and easy to bring with you while out and about. No need to bother with cumbersome chargers anymore; the Omni 20+ has got you covered. With its remarkable features, enhanced details, and outstanding performance, this power bank is truly a cut above the rest.
What you should know
Even though the Omni 20+ Laptop Power Bank comes with a heftier price tag compared to its competitors, it more than makes up for it with its impressive array of features, remarkable charging efficiency, and adaptability.
It serves as an all-encompassing power solution, featuring a high-capacity AC, USB-C PD specifically designed for laptops, wireless charging capabilities, QC 3.0 USB-A, customizable DC power, pass-through charging, and even the option to charge using solar power.
The device comes with a USB charging cable and a USB-C charging cable, enabling you to start powering your devices immediately.
If you're in search of a power bank that can cater to all your smart devices while providing rapid and secure charging, the Omni 20+ Laptop Power Bank is most definitely worth considering as a valuable investment.
Best Overall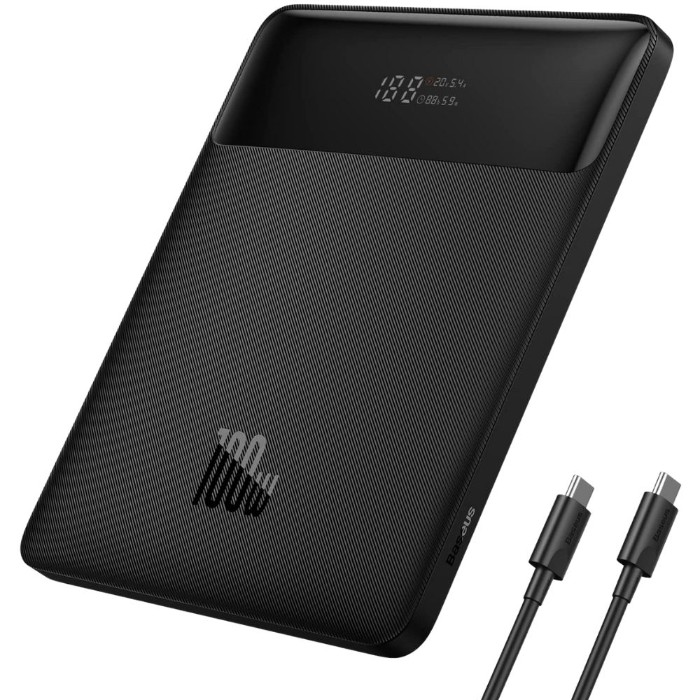 Why we love it
Baseus Laptop Power Bank is our top pick for the best overall laptop power bank in the market. This exceptional device not only boasts a powerful 100W power delivery but also has rapid charging capabilities; ideal for individuals constantly out and about and in need of keeping their gadgets powered up.
What puts the Baseus Laptop Power Bank at the top is its sleek, slim, and lightweight design that can easily be slipped into your bag without causing any troublesome bulkiness. It seems like it was crafted specifically to meet all-around needs.
Featuring two PD USB-C ports that are certified for PD 3.0 and PPS, the power bank can efficiently pump out an impressive 100W of power output. This enables it to quickly charge your 16-inch MacBook Pro by approximately 36% in merely half an hour.
Furthermore, the Baseus package includes a USB-C to C cable for your convenience. And, when paired with the right wall charger, the power bank can be fully recharged in just 1.2 hours, ensuring your devices are never left powerless for long.
What you should know
In addition to its impressive 100W power delivery and ultra-slim design, the Baseus Laptop Power Bank also boasts some other great features that make it the best overall option for charging your devices off-grid.
With the Baseus Laptop Power Bank, you can effortlessly power multiple devices simultaneously, eliminating concerns about sluggish charging speeds or ever running out of battery life.
This versatile power bank not only keeps your devices charged, but also ensures you stay informed about its own charging status. The user-friendly digital display allows you to monitor the charging speed and time remaining until the power bank is fully charged. This practical feature keeps you up-to-date and in control of your energy requirements, ensuring you're always ready to go.
Baseus Laptop Power Bank is flight-safe. This means that it's approved for use on aircraft and adheres to all the necessary safety regulations. So, whether you're heading off on a business trip or a much-deserved vacation, this power bank is an ideal travel companion.
Additionally, the 12-month warranty that comes with the Baseus Laptop Power Bank offers peace of mind and assures you of the product's quality. With this best laptop power bank at your side, you can confidently keep your devices charged, both on the ground and during your flights.
In short, the Baseus Laptop Power Bank is an exceptional choice for those seeking a reliable, efficient, and portable power source for their laptops and other devices while on the move.
Best Power Banks for Laptops: Frequently Asked Questions
In this FAQ section, we will answer some of the most commonly asked questions about the best power banks for laptops. By doing so, we aim to clear up any misunderstandings and provide more clarity to help you make an informed decision.
Is a laptop power bank worth it?
Absolutely! The best laptop power banks are a great investment for anyone who needs that extra power. It's perfect for frequent travelers, remote workers, and anyone who needs to charge their laptop or other devices when there's no wall outlet around. With laptop power banks, you can charge your laptop, phone, and other devices at any time and from anywhere.
Is it safe to use a portable laptop battery charger?
Yes, it is safe to use portable laptop battery chargers if they are used properly. Make sure to follow the instructions for charging your specific device, and do not overcharge or expose the charger to extreme temperatures. Additionally, it's important to purchase portable laptop battery chargers from reputable brands to ensure they meet safety standards and won't damage your device.
Can a laptop battery pack fully charge a laptop?
Absolutely! A laptop battery pack, or a portable charger, can completely charge a laptop as long as it has enough power capacity and output to meet the laptop's charging needs. It's important to check the laptop's power requirements and match them with the power bank's capacity and output specifications to ensure a full charge.
Can I use a wireless charging pad with a power bank?
The compatibility between a power bank and a wireless charging pad is contingent upon the features of the devices in question. Some power banks on the market today include built-in wireless charging capabilities, enabling seamless connectivity with a wireless charging pad. Conversely, certain wireless charging pads come equipped with a USB port designed to allow a power bank connection.
However, if your power bank lacks wireless charging support, you will likely need to use a cable to establish a connection between the devices. It's important to check the specifications of both your power bank and wireless charging pad to ensure they are compatible with each other.
Will a portable laptop charger work with Nintendo switch?
Yes, many portable laptop chargers work with Nintendo Switch as they often use USB-C ports for charging. However, it is important to check the specifications of the portable power charger to ensure that it can provide the necessary power output to charge the gaming device.
Do the best laptop power banks come with an AC outlet?
While some laptop power banks do come with an AC outlet, they are usually larger and more expensive than those without one. It's important to consider your specific charging needs before purchasing a power bank with an AC outlet, as a USB-A or USB-C port may suffice for most devices.