Products Reviewed:
Best Organic: Organic Dream 5″ Mini Crib Mattress
Best Budget-Friendly: Dream On Me Sunset 3" Extra Firm Fiber
Best Breathable: Organic Dream Cool Gel 5″ Mini Crib and Toddler Mattress
Best Two-Stage: Juniper Dreams Mini Crib Mattress
The Best Overall: Moonlight Slumber Baby Bluebird Mini Crib Mattress
As a parent, one of the most important decisions you will make for your baby is choosing the right crib and crib mattress. Mini cribs have become increasingly popular over the years due to their space-saving design and versatility. However, finding the right mini crib mattress can be overwhelming, especially with the variety of options available.
In this article, we will explore everything you need to know about mini crib mattresses, including the best options on the market.
Before we get into finding the best crib mattress for you, let's talk a little about mini crib mattresses in general.
A mini crib mattress is a mattress specifically designed to fit into a mini crib, which is smaller than a standard crib. A mini crib mattress typically measures around 24 x 38 inches, which is significantly smaller than a full size crib mattress which is 28 x 52 inches.
Mini cribs are ideal for parents who live in apartments, have limited space, or are looking for a portable option for travel.
How We Choose
There are plenty of considerations that go into the purchase of a mini crib mattress, the foremost being safety. You must also consider material, size, usage, portability, comfort, venting and of course price.
Safety
When shopping for a mini crib mattress, you should know how it is made. Look for a breathable mattress made from materials that are hypoallergenic and have no dangerous chemicals like phthalates.
Make sure that the mattress you choose fits snugly into the crib. You want a firm mattress long more than 6″ thick to lessen the risk of suffocation.
Mattress types
There are three types of mattress used in mini cribs 1. foam mattresses 2. innerspring mattresses and 3. Organic mattresses.
Foam crib mattresses are the easy choice. They are comfortable, more affordable and less cumbersome. For mini cribs, you want your foam to be between 3-5 inches in thickness, with the maximum being 6 inches.
Innerspring mattresses are based on coils that are then layered over with foam and padding. Innerspring mattresses are more durable and sturdy for sure, however since baby mattresses aren't really required for that long a period, they're not considered worth the investment.
Organic mini crib mattresses are made from natural and organic materials that are free of harmful chemicals. They are usually made from materials such as wool, cotton, and natural latex. Organic mattresses are more expensive than other types of mattresses, but they offer parents peace of mind knowing that their baby is sleeping on a chemical-free surface. It's a hypoallergenic mattress as well, great for babies prone to allergies.
Size
Mini cribs are generally much smaller than regular cribs. The size of a crib depends entirely on your space requirements and you should have choices between 20-25 inches in width to 35-40 inches in length. There are of course lower limits you should not cross, because then we're entering child endangerment territory.
Weight
A good mattress is lightweight yet comfortable and safe. Most foam mattresses shouldn't be more than 20 lbs, while innerspring mattresses are 1.5 times heavier than that.
Polyurethane mattresses are the most common 100% synthetic mattresses used in the world. We don't recommend them for crib use, but these are heavier than regular foam mattresses and lighter than innerspring.
Dual-stage mattresses
Dual-stage mattresses are those that cater to both newborns and toddlers. You use one side, the firmer side, for when the baby is an infant. As they begin to show movement and start lifting their head, it's time to shift to the toddler side.
The other side is softer than the infant side and ideal for older babies.
Breathability and firmness
A breathable mini crib mattress allows air to flow through, which can help regulate your baby's body temperature and reduce the risk of overheating. Most quality mattresses, and all of the ones that we've covered in our list are breathable.
The American Academy of Pediatrics recommends that infants sleep on a firm surface to reduce the risk of turning over and getting stuck upside down. Such instances can lead to Sudden Infant Death Syndrome (SIDS). A firm mattress provides the necessary support for your baby's developing bones and muscles.
Best Organic Mini Crib Mattress
Why We Love It
This firm but soft sleep pad is 100% breathable. This offers ongoing airflow, which is proven to reduce the risk of suffocation. The cover is made with organic cotton that's designed to be pure and breathable for your baby.
This is also a waterproof mini crib mattress, has a removable waterproof cover that can be washed, and has a side for infants and toddlers. Highly rated for comfort by Amazon buyers.
What You Should Know
This organic mini crib mattress is for mini and portable cribs measuring 38″L x 24″W x 5″H.
This 5-inch thick mini crib mattress is GREENGUARD Gold Certified which means that it has gone through rigorous testing and have very low VOCs, reducing the emission of toxic, synthetic chemicals. The cover is 100% Certified Organic Cotton. The core support is Polyurethane.
Best Budget-Friendly Mini Crib Mattress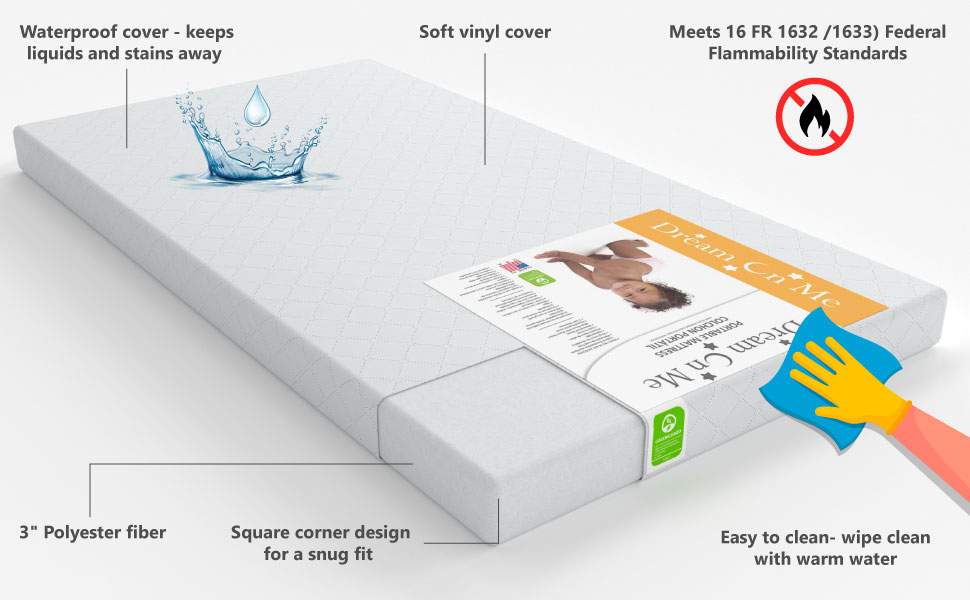 Why We Love It
This mini crib mattress is a perfect mix of support and comfort for your little one without breaking your piggy bank. Easy to clean, and water-resistant, this mattress features a fiber core that offers a firm foundation and excellent support for your baby.
It fits most mini cribs and portable cribs. Lightweight to make changing bedding a breeze. The mattress cover wipes clean with soap and water.
What You Should Know
This mattress is Greenguard Gold Certified to ensure optimum health, safety and peace of mind. It meets/exceeds all safety standards set by CPSC/ASTM and passes all flammability (16 CFR 1632/1633) phthalate, lead and toxicity tests.
Mattress dimensions are 38L x 24W x 3H inches. The mattress is lightweight and weighs 2.5 lbs.
Square corner design for snug fit in a mini/portable cribs (not designed for standard cribs or pack 'n plays). The durable, vinyl mattress cover is waterproof and keeps the mattress fresh. Best Lightweight Mini Crib Mattress
Best Breathable Mini Crib Mattress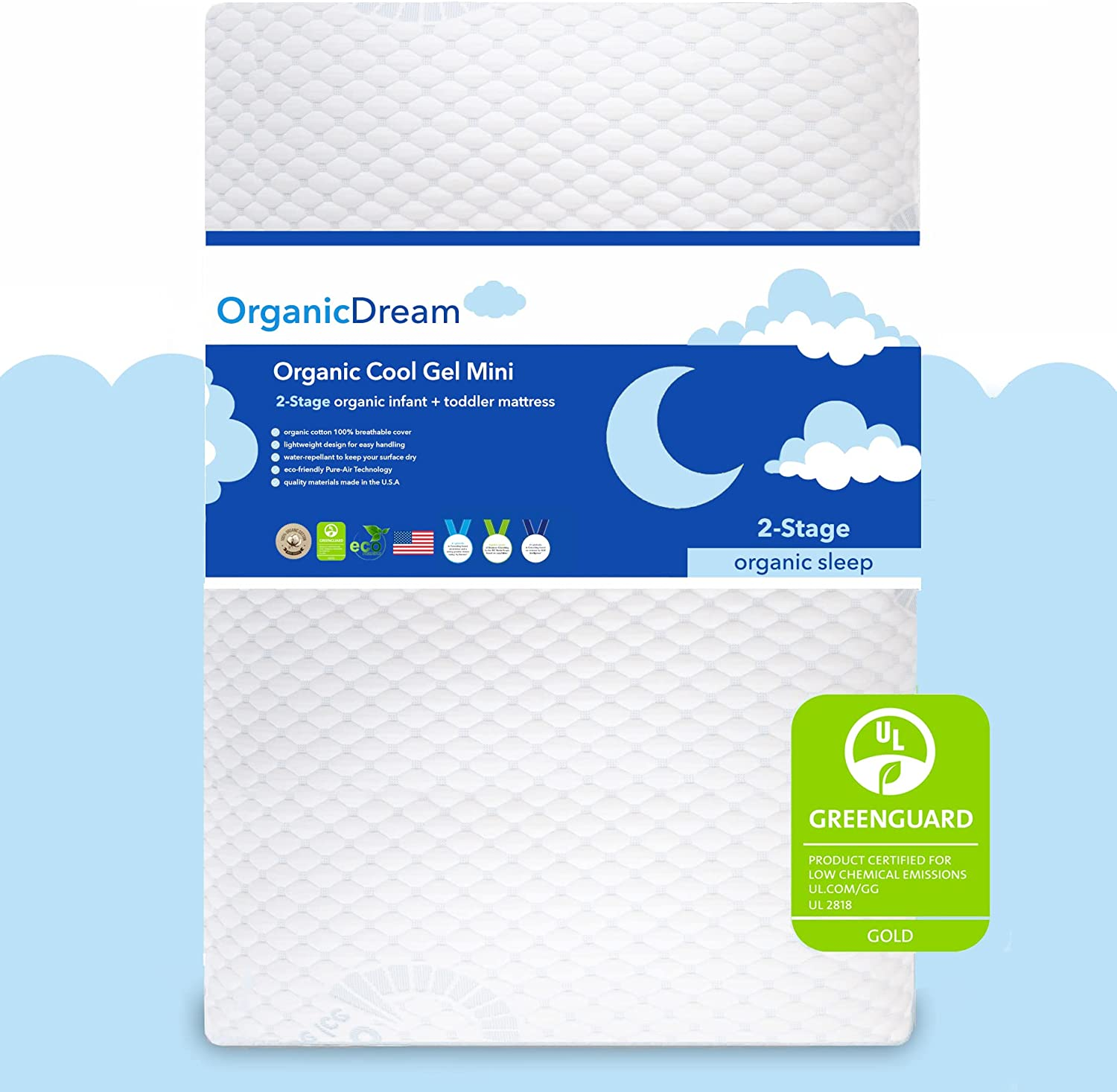 Why We Love It
This 100% breathable mini crib mattress gives your baby safer sleep by providing quality pure air flow. The cool gel makes this mattress great during all-seasons. It simply prevents heat from building up underneath while your baby is sleeping. In winter, it will not make them cold as it's a subtle cooling, not aggressive.
What You Should Know
This is a two sided mattress with a firm side for infants and soft plush side for toddlers. This organic mini crib mattress is for mini and portable cribs measuring 38″L x 24″W x 5″H.
It is Green Guard Gold certified which means that the materials in this mattress have been tested and certified by an independent third-party laboratory to meet specific criteria for green indoor air quality and clean emissions.
Best Two-Stage Mini Crib Mattress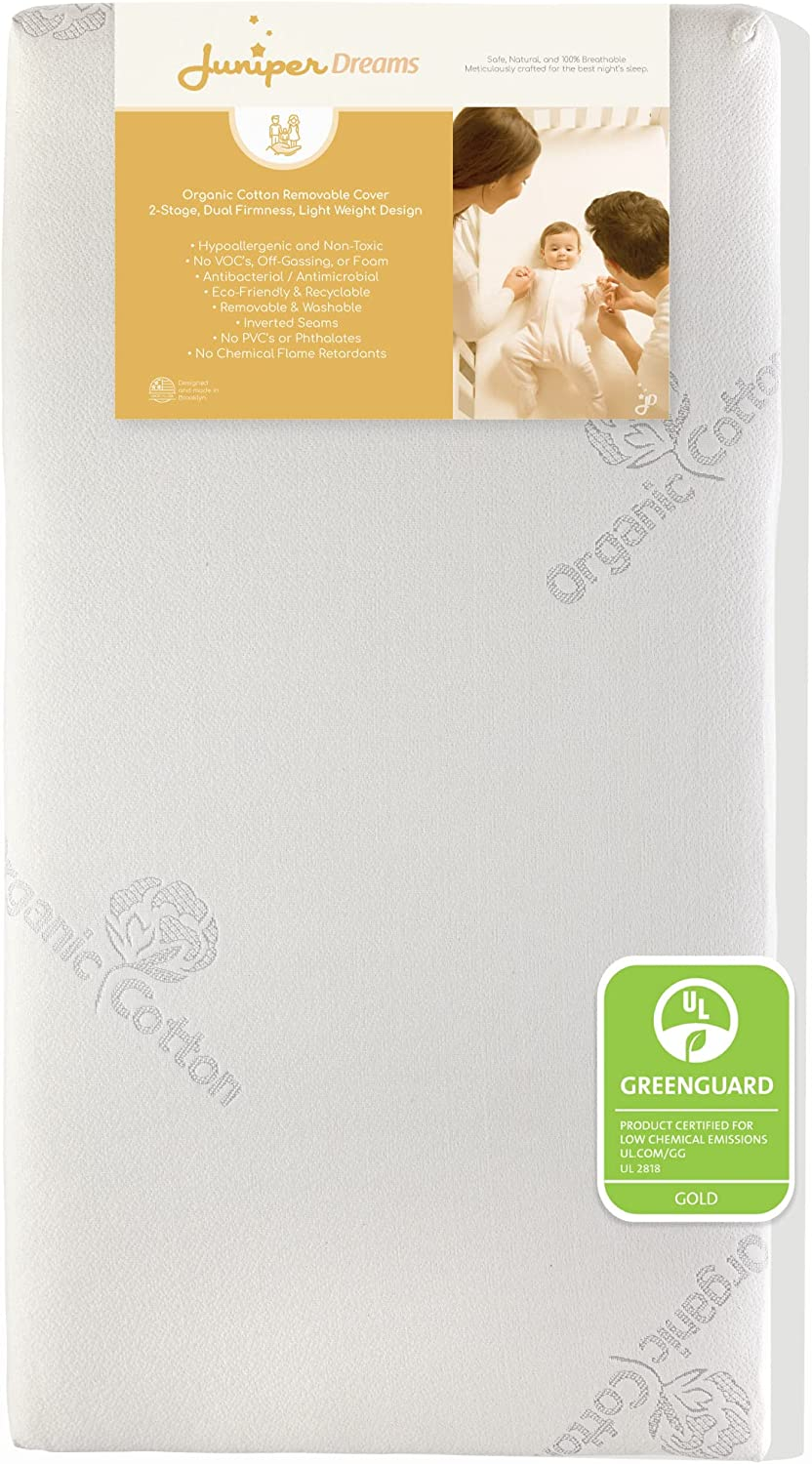 Why We Love It
The Juniper Dreams 2-Stage Mini-Crib Mattress can grow and adjust with your baby from infant to toddler. You can start them off using the firmer side, then flip it over to use the comfortable plush side for your growing toddler.
Its organic cotton cover is breathable. It allows air to pass through which can help regulate your child's body temperature so your little one can lay in complete comfort.
The cover is water-repellent and machine-washable for easier cleaning.
What You Should Know
This is a 5-inch baby bed mattress great for both infants and toddlers. It is Juniper Dreams' coziest mattress at 38" (L) x 24" (W) x 5" (D) in size. It comes with a removable organic cotton cover with an inverted seam design.
This was created using BUNDLE FIBER TECHNOLOGY which is a new blend of densified polyester made with durable binder fibers that give it the strength and elasticity of your highest grades of foam; but without the detriments of foam. Unlike foam, there is no off gassing, VOC's or other potentially harmful emissions. It's also 100% breathable and Green Guard Gold Certified.
The Best Mini Crib Mattress – Overall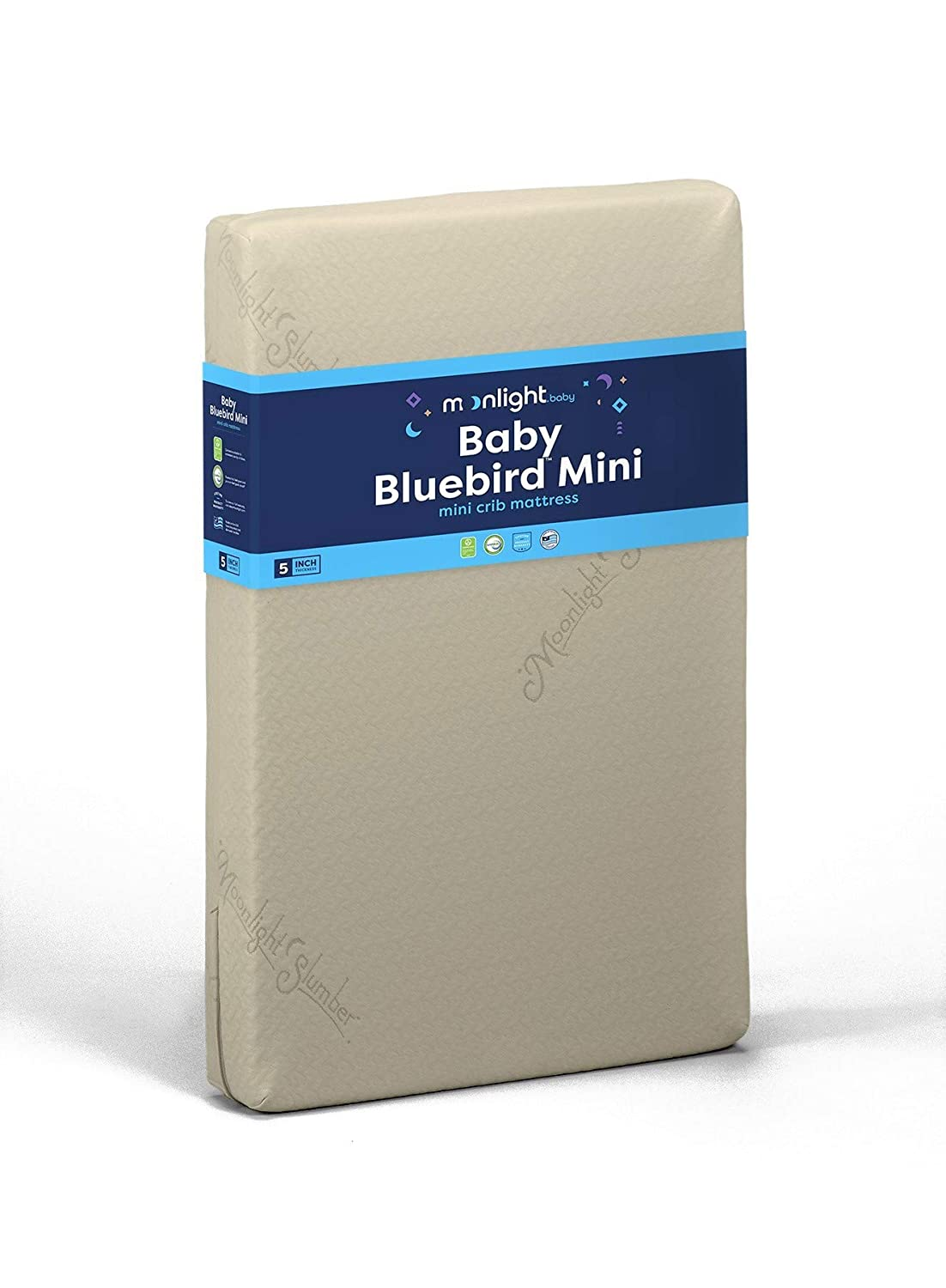 Why We Love It
The Moonlight Slumber Baby Bluebird Mini Crib Mattress has temperature-controlling cool gel memory foam on the toddler side and a firmer density foam on the infant side for lightweight, dual sided support. It is backed by a lifetime warranty against manufacturer's defects.
This includes a removable plush cotton cover that is water, stain, and odor-resistant to ensure long-lasting strength and use. Sewn with flat seams to create smooth edges and equipped with a zipper enclosure, this removable cover completely surrounds the entire mattress. It's feather-soft, plush and breathable for your baby's comfort, and zips off for easy laundering on gentle/low cycle whenever needed.
What You Should Know
This measures 38x24x5″. It is Greenguard Gold certified, CertiPUR-US Certified Foam, Woven Fire Barrier with No Spray-On FR Chemicals.
This dual-sided mattress is expertly constructed with two layers of foam, encased with a stretch-knit, hypoallergenic polyester material that feels good directly on baby's skin and is vinyl- and PVC-free.
The two layers of foam are infused with plant oils providing the right firmness for your baby at all stages. Extra firm for infants. Plush for toddlers. Fabric cover flexes under baby.
Mini Crib Mattress FAQ's
Any product that you intend to use for your children merits extra research and caution. Mini crib mattresses are no different and we're sure you have a bunch of questions holding you back from making a purchase. We've tried to answer as many of them as we can to help you make the right decision.
Are mini crib mattresses safe?
Mini crib mattresses are perfectly safe for newborns, infants and toddlers. To provide your children extra comfort and protection, make sure you buy a quality product this is both firm, comfortable and breathable (air is able to pass through).
Do mini cribs need different mattresses?
Yes, mini cribs typically require a different size of mattress than standard-sized cribs. Such cribs are smaller than standard cribs, and as a result, they require a smaller mattress that fits snugly within the crib's frame.
The dimensions of mini crib mattresses can vary depending on the specific model of crib, so it's important to check the manufacturer's specifications to ensure you purchase the correct size mattress for your mini crib. In general, mini crib mattresses can range from 37 to 24 inches in length and 23 to 38 inches in width.
It's important to use a mattress that is specifically designed for your mini crib, as using a mattress that is too large or too small can create a safety hazard for your baby. Additionally, a mattress that is designed for a standard-sized crib may not fit securely within a mini crib, which can lead to gaps between the mattress and the crib's frame, posing a potential danger to your child.
How long can a baby be in a mini crib?
Babies can safely sleep in a mini crib for several hours at a time, depending on their age and sleep needs. Newborns typically sleep for 16-17 hours per day, but this gradually decreases as they grow. By the time a baby is 6-12 months old, they may be sleeping for 12-14 hours per day.
It is important to ensure that the mini crib is set up according to the manufacturer's instructions and that the mattress is firm and fits snugly. You should also avoid placing any loose items in the crib, such as blankets or toys, which could pose a suffocation hazard.
As with any sleep arrangement, it is important to monitor your baby's sleep and ensure they are sleeping safely and comfortably. If you have concerns about your baby's sleep habits, you should speak with your pediatrician.
How long can a baby use a mini crib?
Mini cribs are typically designed for infants and are suitable for use until the baby reaches about 1-2 years of age, depending on their size and development. However, it is important to follow the manufacturer's guidelines and recommendations for the specific mini crib being used, as the weight and size limits can vary.
Additionally, as babies grow and become more mobile, they may outgrow the mini crib sooner than anticipated. It is important to monitor your baby's development and adjust their sleeping arrangements accordingly to ensure their safety and comfort.
Why are mini crib mattresses so thin?
Mini cribs are meant for newborns and infants, and babies that are so young don't have much control over their heads and limbs. Softer mattresses open you up to the risk of your baby turning over and sinking into the mattress. They might get stuck in a position where they are unable to breath.
Mini crib mattresses are deliberately kept thin for this reason. Even if an infant rolls over on a thin mattress, there would be natural separation between them and the mattress and they'll be able to breathe easily.
How thick should a mini crib mattress be?
As mentioned before, you want your mini crib mattress to be as thin as possible without being uncomfortable. You can go as thin is 3 inches. If you think that's too thin and might be not provide your baby the padding they need, you can go up to 6 inches. Anything above 6 inches becomes dangerous.
How often should crib mattresses be replaced?
They're is no "best by" date for crib mattresses. Replacement timing depends entirely on the state of your mattress. It's time to replace yours if you feel the mattress has become too soft and is losing its form.
As a rule of thumb, your mattress will most likely need replacement within 3-5 years of continued use. However, if it is handled with care and stored well, it could last you up to a decade.
Why should you not reuse a crib mattress?
As with all things second-hand, reusing a crib mattress means there is a chance your child will be exposed to harmful bacteria, germs and dust mites.
A study in Scotland also linked SID to the use of second-hand mattresses. The study concluded, "A valid significant association exists between use of a used infant mattress and an increased risk of sudden infant death syndrome, particularly if the mattress is from another home. Insufficient evidence is available to judge whether this relation is cause and effect."
However, all of this entirely depends on where you're getting the used mattress from. If you're re-using one that your older child used, as long as you stored the mattress in a dry place and have it cleaned thoroughly, there is no real risk to your baby.
Does a mini crib mattress fit a toddler bed?
It depends on your crib. If you have a crib that can convert into a toddler bed, then most likely the mini crib mattress will be usable. In case it's a completely new bed, it will require a new mattress. You want a comfortable mini crib mattress for you baby, so be careful what you choose.
What mattresses should babies avoid?
Ill-fitting mattresses should be avoided. You don't want to leave any space between the mattress and the mini crib for the baby to lodge itself into.
While you want to use a foam mattress, make sure the mattress you get is firm. Softer and fluffy mattresses could trap and suffocate newborns who don't have the motor control to turn themselves over.
Also avoid mattresses that have phthalates. Phthalates are found in most mattresses, and are released when heated by the warmth of your baby's skin. Prolonged exposure to this chemical can lead to a number of diseases down the line like asthma and eczema. A polyurethane foam is a good option.
Lastly, try and avoid using used foam mattresses. The risk that comes with using a hand-me-down is too great.
When should I lower my mini crib mattress?
Start lowering your mini crib mattress as your baby reaches 6 to 9 months. Keep your eyes open for signs of movement before you lower the crib mattress. Ideally, your baby should be rolling over, lifting their head, or trying to get up.
Keep in mind, sometimes this happens quicker than 6 months and sometimes it takes more than 9 months. So, observe your child and take the decision to lower the mattress accordingly.
How do you know if a crib mattress is too small?
If the distance of the mini crib mattress and the crib wall is more than one inch, the mattress is too small. A simple way of checking this out is by using your fingers. If the distance is more than two fingers, the mattress won't be a snug fit.
This is dangerous for your baby as they might get a limb stuck in the space.
Can you use any mattress for crib?
You could, but you shouldn't. You want to make sure that the mattress you use is meant for the mini crib you're fitting it on. Also only use a crib mattress on a crib- meaning it fits the size, material and safety requirements of a baby mattress.
Whats the difference between a mini crib and a regular crib?
The mini crib is a smaller (thus the word "mini") version of a regular crib. In terms of material and safety guidelines, there is no difference. The major difference is of course the size.
The measurements on average are are 24″ x 38″ while traditional cribs are 28″x 52″.
Mini cribs are usually preferred since they don't require as much space, are easy to transport, assemble and disassemble, and are budget-friendly.
What's the best mini crib mattress cover?
Get a breathable waterproof cover. If you want to go down the green route, a cotton waterproof cover is a great option too. Try and get a waterproof cover since drool and spills are unavoidable. These covers are much easier to clean and reuse.