Products Reviewed:
Best Overall: Bose Frames Audio Sunglasses
Best Splurge: Echo Frames Smart audio sunglasses
Best Budget: OhO sunshine Bluetooth Sunglasses
Best Polarized: Razer Anzu Smart Glasses
Best with Camera: ABTOCAR Bluetooth Sunglasses
Today's fast-paced lifestyle demands that we staying connected and up-to-date all the time. And even if that's not the case for you, getting your hands on the latest tech has its perks.
What better way to combine connectivity with fashion than through Bluetooth sunglasses? These innovative devices provide not only wireless freedom but also a cool and stylish accessory to boot. With so many different options available, it can be tough to choose which pair is right for you. That's why we've compiled a list of the top 5 Bluetooth sunglasses on the market today.
With built-in wireless technology, Bluetooth sunglasses allow you to connect to your devices without the need for extra wires or cables. Whether you're out traveling to work, lounging by the pool, or just running errands, these sunglasses provide a convenient way to stream music, take phone calls, and even access GPS navigation without fumbling for your phone.
But it's not just about the technology. The design of these sunglasses is equally important, with a variety of shapes, colors, and features available to suit your personal style. From classic Aviators to trendy cat-eye frames, there's a pair of Bluetooth sunglasses out there for every taste.
Bluetooth sunglasses also offer the added benefit of UV protection, keeping your eyes safe from harmful rays while you stay connected. And with many models offering polarized lenses, you can enjoy clear vision in bright sunlight without glare.
So whether you're a music lover, a tech enthusiast, or just looking for a sleek and stylish accessory, Bluetooth sunglasses are the way to go. Check out our top picks for the best Bluetooth sunglasses of 2023 and experience wireless freedom and fashion all in one!
How do we choose the best Bluetooth sunglasses?
Before jumping to the top picks, it's important to analyze the factors that can influence your buying decision:
1. Sound quality: The quality of sound you get is crucial because that's the reason you're purchasing Bluetooth sunglasses in the first place. Ensure that the device you select has an excellent sound quality to enjoy your music and calls without any distortion.
2. Battery life: A decent battery life of 3-4 hours should be enough for most people. But, if you are someone who is constantly on the move or uses Bluetooth headphones for extended periods of time, opting for a model with a longer-lasting battery is definitely the way to go.
3. Comfortable fit: Look for models that have a comfortable and secure fit to allow you to wear them for long periods. Some come with adjustable frames, and others have different lens tints for various lighting conditions. So, ensure that the fit is right and feels comfortable on your face.
4. Durability: Bluetooth audio glasses are designed to be worn outdoors, making them vulnerable to wear and tear. Choose a model that is durable and designed to withstand harsh weather conditions and bumps. Look for glasses with impact-resistant lenses and frames constructed of durable materials like polycarbonate.
5. Style: Of course, you want your Bluetooth sunglasses to look great too! Look for a pair that fits your personal style and complements your wardrobe. Some models may come in different frame and lens colors to match your taste.
6. Price: Lastly, consider your budget when purchasing Bluetooth sunglasses. The price of these devices varies from model to model. You can find affordable models that provide quality sound and comfort, but high-end models come with additional features, like polarized lenses, music streaming, and longer battery life. We have included both a budget option as well as a splurge option; both are great for their price.
By considering these factors, you can find the perfect pair of Bluetooth sunglasses that will keep you connected and stylish all year round. Now that you know why wireless Bluetooth sunglasses are the real deal and how you can ensure getting the perfect ones, let's unveil the top smart glasses of 2023 that boast next-level Bluetooth connectivity.
Best Polarized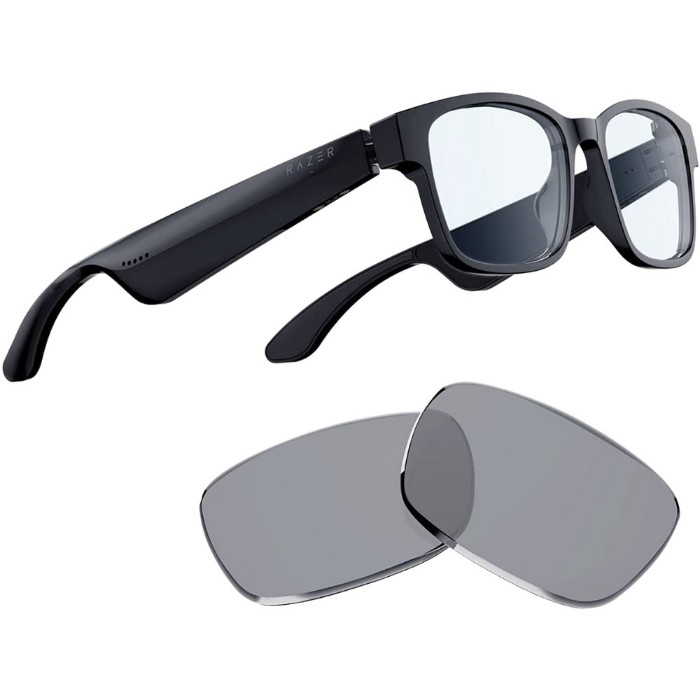 Why we love it
The Razer Anzu Smart Glasses are the ultimate solution for both protection and entertainment. Equipped with polarized lenses, they shield your eyes from harmful UV rays, while their blue light filter reduces screen glare and safeguards your eyesight.
What's more, the low latency Bluetooth audio technology offers a seamless and uninterrupted auditory experience, perfectly fitting for immersing yourself in your favorite content or getting some serious work done.
These smart sunglasses boast a built-in mic and speakers that make hands-free calling a breeze, and managing your music has never been simpler. Plus, the touch-enabled and voice-assistant compatible interface adds to the convenience of controlling your smartphone without having to take it out of your pocket every time.
With the Razer Anzu Smart Glasses, you get style, functionality, and convenience all in one sleek package!
What you should know
In addition to its impressive features, the Razer Anzu Smart Glasses have a water-resistant IPX4 design, which allows them to withstand both splashes of water and sweat. This makes them ideal for outdoor enthusiasts who want to stay protected while engaging in their favorite activities.
In terms of battery life, the Razer Anzu Smart Glasses offer over 5 hours of usage on a single charge. And when you're not using them, they automatically power off to conserve battery life, making them an energy-efficient choice as well.
The glasses are also designed to offer a comfortable fit for any face shape, thanks to their small, rectangular design. And with replacement polarized lenses that can be easily swapped out as needed, you can always be sure of clear vision.
Overall, the Razer Anzu Smart Glasses are a versatile and functional choice for anyone who wants the best polarized lenses when it comes to Bluetooth sunglasses. With their advanced features and high-quality design, they offer top-tier eye protection with the added bonus of cutting-edge technology.
Best with Camera
Why we love it
Experience a unique and exciting adventure with ABTOCAR Bluetooth Sunglasses! These stylish shades have a high-quality camera that records 1080P video at 1920×1080 resolution, allowing you to capture all your memorable moments on the go. Plus, the wide-angle lens ensures that you don't miss anything vital.
But that's not all; these sunglasses also have polarized UV protection lenses that keep your eyes safe from the sun's rays while recording. You won't have to sacrifice your eyes' protection for the sake of capturing memories. These sunglasses got you covered both ways!
And if you're worried about battery life, don't be! The built-in rechargeable battery can keep continuous video recording for up to 90 minutes long. No need to cut your adventures short or miss out on any vital moments.
ABTOCAR Bluetooth sunglasses offer you everything you need to make the most of your memories in a compact and stylish package.
What you should know
ABTOCAR Bluetooth Sunglasses offer more than just a camera. With Bluetooth 4.1 technology, you can connect your smartphone for hands-free calling and music listening. You'll appreciate the high-quality stereo earbuds that provide crisp and clear sound, making you feel like you're in the front row at a concert.
With easy-to-use controls for both the camera and Bluetooth functions, you'll be able to operate them independently with ease. Additionally, they support up to a 32GB card, which means you can store plenty of videos and pictures of your outdoor escapades.
If you're out and about, these sunglasses have got your back. They're lightweight and comfortable, allowing you to wear them for extended periods without any discomfort. And with their sleek and fashionable design, they make for a great gift for yourself or your loved ones.
So why settle for basic and oversized sunglasses when you can upgrade to the ABTOCAR Bluetooth Sunglasses? Capture and share your outdoor adventures in style and make memories that will last a lifetime.
Best Budget
Why we love it
Looking for a cost-effective way to add some smart tech to your everyday life? Check out the OhO sunshine Bluetooth Sunglasses, a stylish accessory that doesn't skimp on features. This clever wearable lets you easily listen to music or stay connected with phone calls, all while keeping your hands free.
Designed with voice control technology, you can easily access your favorite music stations or get updates on weather and traffic without ever needing to touch your device. And with easy-to-use volume controls, you can adjust the sound to the right level for you.
Best of all, with open-ear speakers and an HD microphone, you'll enjoy crisp, clear sound quality whether you're taking a call or jamming out to your favorite tunes.
What you should know
These OhO sunshine Bluetooth Sunglasses boast an ultrathin design that is featherlight and flexible, delivering a comfortable fit for prolonged wear. The lenses feature cutting-edge polarized coating technology that offers complete protection from harmful UV rays while also ensuring excellent color, clarity, and contrast.
These eyeglasses are also Bluetooth 5.0 compatible and IP44 waterproof, making them great for use during outdoor activities such as hiking, cycling, and fishing. And with a battery life of up to 10 hours, you can listen music and take calls throughout the day.
Overall, the OhO sunshine Bluetooth Sunglasses offer a range of features that make them the best budget pick. With voice control technology, open-ear music, reliable audio quality, and a sleek design, these sunglasses are perfect for anyone looking for a smart device that won't break the bank.
Best Splurge
Why we love it
Looking for the perfect blend of premium fashion and technology? Look no further than the Echo Frames Smart audio sunglasses! With voice activation, you'll stay connected to your digital world without ever having to lift a finger. Plus, these audio sunglasses feature high-quality polarized blue mirror lenses that not only protect your eyes from harmful UV rays but also give you major style points.
But that's not all; with Alexa integration, you can make phone calls, listen to podcasts or Audible books, and even control your smart home, all with your voice. Moreover, you can easily set reminders or add items to your to-do list without having to fumble around with your phone.
These incredible audio sunglasses come equipped with an open-ear audio feature that focuses on delivering sound directly to your ears while keeping external noise to a minimum. The Auto Volume feature even automatically adjusts the volume level depending on the ambient noise around you, so you'll always be able to hear your music or conversations crystal clear without any interruption.
What you should know
Echo Frames Smart audio sunglasses boast Bluetooth 5.0 for rock-solid connectivity, and you can personalize your notifications with the exclusive VIP Filter feature. The comfort level is unmatched, thanks to their lightweight and splash-resistant design, which comes in a variety of frame styles and lenses.
Additionally, the battery life is astounding, so you can enjoy your favorite tunes all day long with no fuss. Echo Frames also have built-in access to Siri and Google Assistant, making it easy to control your smartphone and stay up-to-date on messages and calendar events.
For privacy's sake, the dual microphones automatically deactivate with a simple double-press of the side button, ensuring that confidential conversations stay private. And, because they are compatible with both Android and iOS, you can use them with iPhone, Samsung, LG, or other mobile phones.
Don't let a busy lifestyle hold you back; stay on top of everything with the Echo Frames Smart audio sunglasses! Though a bit expensive, these smart sunglasses are well worth the price tag, making them the perfect splurge for all types of audio enthusiasts.
Best Overall
Why we love it
The Bose Frames Audio Sunglasses are our top pick for the best overall spot. They boast open-ear headphones that give you a more immersive sound experience while keeping outside noise to a minimum, making them perfect for anyone looking for a bit of peace and quiet.
Moreover, the Bose Frames also feature an integrated microphone for crystal-clear calls and easy access to your phone's virtual assistant. And with a coating that blocks up to 99% of UVA/UVB rays, you can be sure your eyes are well-protected while looking your best.
But that's not all; with the Bose Connect app, you'll have access to personalized settings, future updates, and much more. Plus, the Bluetooth connectivity makes it easy to pair with most of your other devices.
The Bose Frames come in a timeless angular design, paired with sleek and bold lenses in two different sizes. These sunglasses are a stylish accessory that will complement any outfit.
What you should know
Bose Frames Audio Sunglasses offer up to 3.5 hours of streaming and 12 hours on standby, ensuring that your entertainment won't run out before your battery. And with a Bluetooth range of up to 30 feet or 9 meters, you can move around freely while still remaining connected to your device.
Aside from technological capabilities, the Bose Frames come in a wide range of colors to suit anyone's fashion preferences. They are designed with metal hinges and nylon rims, making them durable enough for everyday wear. Additionally, the lenses are scratch and shatter-resistant, making them ideal for all your outdoor activities.
Furthermore, Bose Frames are compatible with iOS 9.0 or newer and Android 5.0 or newer, ensuring seamless connectivity across devices.
All in all, the Bose Frames are rightly the best overall Bluetooth sunglasses available for purchase in 2023. They offer a unique combination of style, functionality, and construction, making the Bose Frames a versatile and long-lasting investment.
Wireless Bluetooth Sunglasses: Frequently Asked Questions
This section will help you get answers to some commonly asked questions about Wireless Bluetooth Sunglasses.
Can other people hear audio sunglasses?
No, they can not. Most audio sunglasses use open-ear audio technology, which directs sound toward the wearer's ears while keeping the outside world audible.
Are Bose frames better than Echo frames?
Bose Frames and Echo Frames have different features and designs, so it depends on individual preferences. Bose sunglasses are part of Bose's line of smart audio glasses, while Echo Frames are Amazon's offering.
Are smart glasses legal?
Yes, smart glasses are legal to use, but certain features, such as recording capabilities, may be subject to regulations depending on the country or state.
Can you make phone calls with smart glasses?
Yes, some smart glasses have the capability to make phone calls, allowing users to stay connected while on the go.
What is the difference between polarized and regular sunglasses?
Regular glasses are designed to correct vision, while polarized and non-polarized sunglasses are designed to block out the sun's rays. Polarized lenses reduce glare and improve clarity, making them a popular choice for outdoor activities such as fishing or skiing. Regular glasses can have prescription lenses, while polarized lenses are typically used for non-prescription sunglasses.