Products Reviewed:
Best Overall: Logitech C920x Webcam
Best Splurge: Lumina 4K Webcam
Best Budget: NexiGo N660 Business Webcam
Best wideangel webcam for mac: NexiGo N980P Webcam
Best HD webcam for mac: Logitech Brio 4K Webcam
Are you tired of having to explain your grainy, pixelated video when you're on video calls on your Mac? Camera quality has improved so much in the recent years that there is no choice but to feel embarrassed with bad video when attending online meetings.
Whether you use video communication for work, school, or just to stay in touch with family and friends, a good Mac camera is a must. We're not talking about going for the most expensive camera out there (that's an option too btw). But, you need to make sure your camera is up to speed with overall video and sound quality and minimizes lags during video calls.
In this post, we'll present our top 5 picks for the best Mac webcams on the market, including their key features, benefits, and everything in between. We have analyzed thousands of customer reviews, personalized user experiences, and manufacturers' claims to be able come up with this list.
Read on to find out the best Mac webcam for your specific needs, budget, and preferences!
How do we choose the best webcam for Mac?
With so many options available in the market, it can be challenging to choose a Mac webcam that suits your needs the best. Here are some factors to consider:
Resolution: The first factor to consider when selecting a Mac webcam is resolution. The resolution determines the video quality, and the higher the resolution, the better the quality. The most common resolutions for PC webcams are 720p and 1080p. If you want crystal clear video quality, opt for a 1080p webcam.
Frame rate: Frame rate refers to the number of frames per second the webcam can capture. The higher the frame rate, the smoother and more natural the video will look. Most webcams have a frame rate of 30fps or more, which is perfect for video conferencing.
Autofocus: Autofocus is a crucial feature that allows the webcam to automatically adjust the focus to keep your face bright and blur out the background. Although not all webcams have autofocus, it's an essential feature that greatly enhances the overall video quality.
Low-light correction: If you often find yourself attending virtual meetings in dimly lit environments, consider getting a webcam with low-light correction. This feature allows the webcam to adjust to low-light settings, which results in brighter and clearer video quality.
Price: Like with any product, price is a crucial factor to consider when buying a Mac webcam. The price range for webcams can be vast, from budget-friendly options to high-end models. Determine your budget beforehand and aim to get a webcam that fits your needs without breaking the bank.
Brand and compatibility: Lastly, you should consider the brand and compatibility of the webcam. Ensure that it's compatible with your Mac and the software you're using for video conferences. Additionally, opt for reputable brands that offer quality products and excellent customer support.
Now that you know how to choose the best webcam for Mac, let's finally delve into the top 5 models available.
Best wide-angle webcam for Mac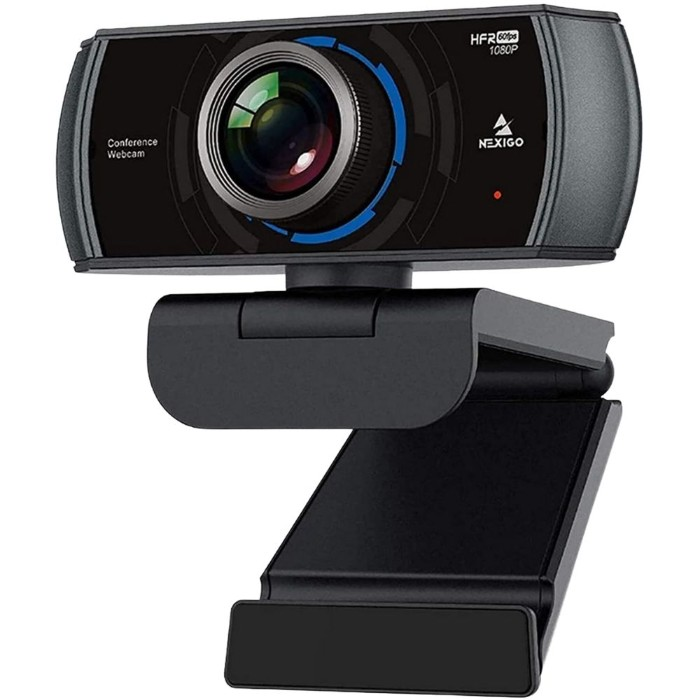 Why we love it
Looking for a webcam that can capture large group meetings with stunning clarity? Look no further than the NexiGo N980P Webcam! Boasting a wide-angle lens that can capture up to 120°, this webcam allows you to include more people or objects in your video conference calls without sacrificing quality.
And why settle for ordinary clarity when you can enjoy sharper, more fluid videos with this webcam's 1080P high-definition video and smooth 60FPS professional streaming capability? Whether you're working remotely or hosting virtual meetings with clients, the NexiGo N980P Webcam ensures that every detail is perfectly captured for a truly professional appearance.
One of the best things about this webcam is its intelligent color adjustment technology. With the automatic color adjustment, you can expect true-to-life and accurate images every time. Even in low light conditions, you can count on this webcam's auto-bright technology and precision F2.1 lens to deliver the sharp, high-quality video you need.
Of course, excellent video quality is only one part of the equation. For clear sound, the NexiGo N980P Webcam also features built-in dual noise reduction microphones that provide impressive sound fidelity. So whether you're conducting interviews or hosting remote presentations, you can be confident that your audience will hear every word in crystal-clear quality.
What you should know
The NexiGo N980P Webcam is designed for plug-and-play use and requires no additional software or drivers. It uses standard UVC video drivers, making it widely compatible with all major operating systems, including Windows, Mac OS, Linux, Chrome OS, and Ubuntu Version 10.04 or above.
Whether you're using Skype, Zoom, or Facetime, the NexiGo N980P Webcam can handle it all. Its dynamic, wide-angle lens gives you a clear and crisp image with every use, and its high-quality microphone ensures that you're heard loud and clear.
Designed with ease of use in mind, the NexiGo N980P Webcam is perfect for both beginners and professionals. Simply plug it into your computer's USB port, and you're good to go! Plus, with a sleek and compact design, it's easy to transport and store when not in use.
If you're looking for a reliable webcam with a wide-angle lens that's perfect for video conferencing, streaming, recording, and literally everything, the NexiGo N980P Webcam is a fantastic choice. Its impressive features and seamless design make it one of the best webcams on the market, perfect for both personal and professional use.
Best HD webcam for Mac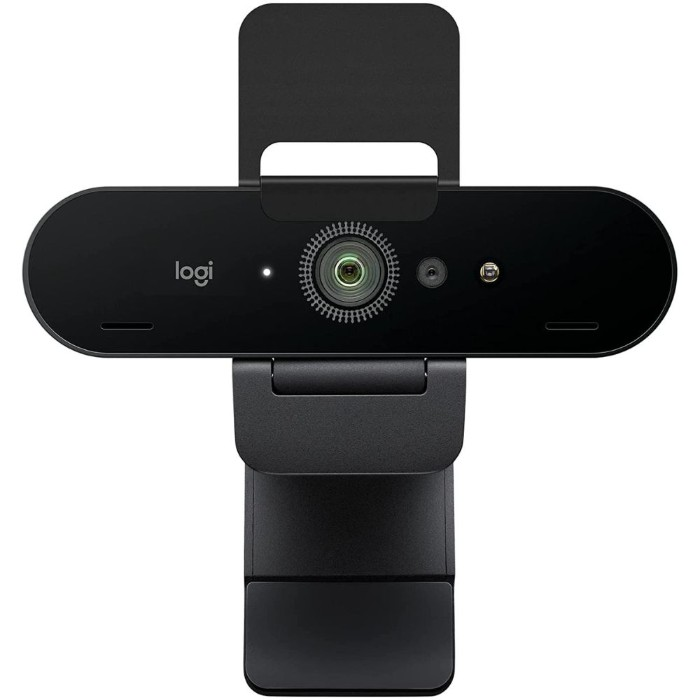 Why we love it
The Logitech Brio 4K Webcam is the perfect choice for those seeking a high-quality HD webcam for their Mac. This webcam offers Ultra 4K full HD video calling, providing four times the resolution of a typical HD webcam, for a professional video experience from anywhere you are. With 5x HD zoom, you can look your best and feel confident about your video quality.
The HD Auto Light Correction feature uses HDR technology to showcase you in the best light, even in low-light and backlit situations. This feature ensures that you look great and that the picture quality is outstanding, even if the lighting in your environment is less than perfect.
To enhance your audio quality, this webcam is equipped with noise-canceling technology and dual omnidirectional microphones. This technology provides exceptional sound quality, enabling you to be heard even in noisy environments, meaning you'll sound crystal clear on your next video call.
The Logitech Brio 4K Webcam also features three impressive 'field of view' presets, allowing you to select from 90°, 78°, or 65° dFOV via Logi Tune. This gives you the flexibility to include more of the environment around you or to narrow the focus solely on you.
What you should know
The Logitech Brio 4K Webcam supports work from anywhere with Sync device management software, helping everyone stay connected by letting you ensure their Logitech video collaboration personal devices are up to date and are being used effectively.
What sets the Logitech Brio 4K Webcam apart from other options on the market is its ability to offer up to 90 fps, producing clear and detailed video recordings or streams regardless of the lighting conditions in your workspace.
Additionally, this webcam features Windows Hello integration, allowing you to effortlessly and securely sign into your computer without the need for a password.
Privacy is always a concern when it comes to online communication, but the Logitech Brio 4K Webcam has you covered with its convenient privacy shade. Simply flip it up or down to expose or cover the camera lens as needed.
Whether you're using Windows, Mac, or ChromeOS, this webcam is compatible with the most popular video services, including streaming and video chat, making it an incredibly versatile choice for anyone looking for a reliable and high-performing webcam.
Moreover, when you invest in this Logitech webcam, you can trust that you're getting a top-of-the-line product as it comes with a 1-year warranty.
All in all, the Logitech Brio 4K Webcam is the best option for those wanting a high-quality webcam for their Apple Mac. With high-resolution video, smart autofocus features, dual noise-canceling microphones, and changeable 'field of view' options, it's the ideal choice for professionals looking to take their video conferencing experience to the next level.
Best Budget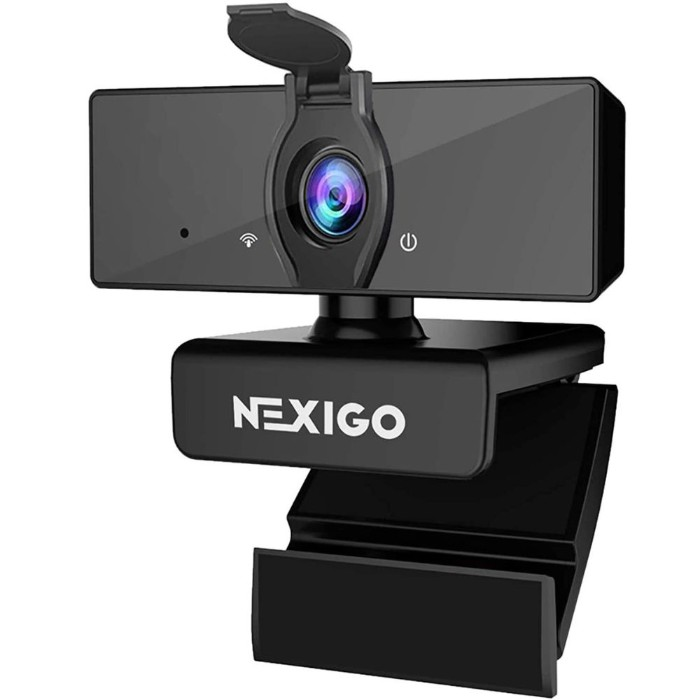 Why we love it
Looking for a budget-friendly webcam that tows the line between quality and budget? Meet the NexiGo N660 Business Webcam that has become a favorite among Mac users. With its 1080p full HD resolution, you can capture clear and crisp videos every time.
What's more, the 3.6mm glass lens is optimized for indoor use and offers excellent image quality at fixed distances ranging from 19.6 inches to 13 feet.
One standout feature of the NexiGo N660 webcam is its dual microphones that effectively cancel ambient noise to deliver clear sound quality. It's particularly useful for online classes, video conferences, and gaming. You don't have to worry about distracting background noise that can interfere with your communication.
Plus, when you're not using the webcam, simply use the privacy cover to block the lens. You'll have total peace of mind knowing that you're not being watched and your privacy is safeguarded.
The NexiGo N660 webcam is a user-friendly device that requires no additional software or drivers. Setting it up is a breeze; all it takes is plugging it into your computer's USB port, and you are ready to go!
And, if you want to customize the settings of your webcam, you can easily download the NexiGo Webcam Software. This software is compatible with Windows 7/8/10 and MacOS, and can be downloaded from their support site.
What you should know
NexiGo N660 webcam boasts a wide range of compatibility, including Mac OS X 10.7 and higher, Windows 7, 8, & 10/11, Android 4.0 or higher, Linux 2.6.24, Chrome OS 29.0.1547, and Ubuntu Version 10.04 or above, ensuring that you can use it with virtually any operating system. It is also compatible with USB 2.0 and gets ready to use in just one minute.
Another highlight of this dedicated webcam is its 360-degree rotating base, which allows you to get the perfect camera angle for your needs. Not only is the base adjustable, but it is also sturdy and reliable, meaning you can trust that the camera will remain in place during use.
The NexiGo N660 is also designed to be compact and lightweight, making it super convenient to transport and store when not in use.
Overall, the NexiGo N660 Business Webcam is an excellent choice for anyone who needs a high-quality webcam that won't break the bank. With its advanced features, ease of use, smooth video, and wide compatibility, this cheap webcam is surprisingly the perfect solution for online classes, video conferences, and gaming sessions.
Best Splurge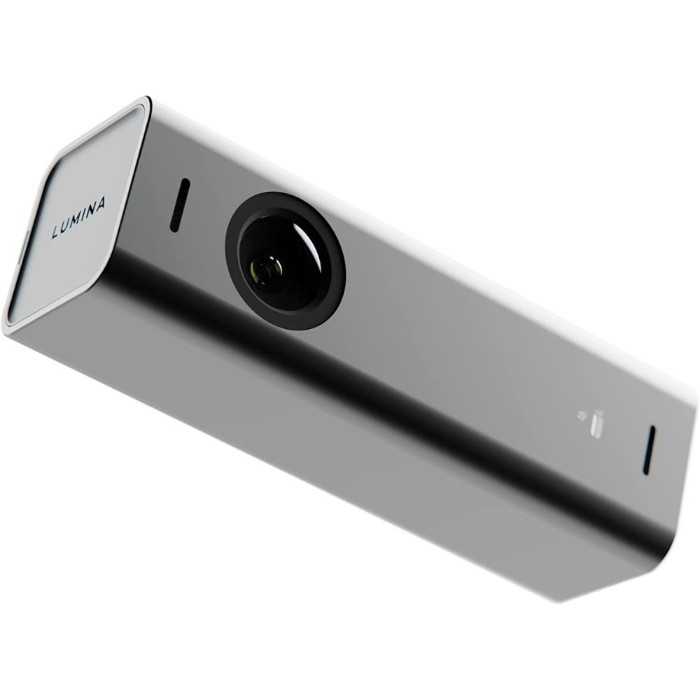 Why we love it
Looking for a high-quality webcam that can take your video calls to the next level? Say hello to the Lumina 4K Webcam! With its state-of-the-art technology and impressive features, this webcam is definitely worth the splurge.
One of the highlight features of the Lumina 4K Webcam is its studio-grade performance. Thanks to its proprietary AI technology, the camera automatically adjusts to make you look your best on every call. No more unflattering angles or harsh lighting – the Lumina 4K Webcam takes care of everything.
In addition to its AI-powered performance, the Lumina 4K Webcam boasts an ultra-wide 4K camera with a 95-degree field of view. This makes it perfect for group calls or recording, as it captures everything in stunning detail. You'll feel like you're in the same room as the person you're talking to.
But that's not all; the Lumina Studio App offers complete control over your appearance with 30+ settings. Whether you want to adjust the exposure, white balance, saturation, or background blur, the app has you covered. You can customize your video call experience to suit your preferences and ensure that you always look your best.
What you should know
Lumina 4K Webcam is the world's first with active calibration technology. This advanced feature ensures that you always look your best by adjusting the camera's settings in real time.
The Lumina 4K Webcam also features dual microphones that capture natural sound while eliminating background noise. This means that your voice will always be clear and audible to your colleagues, clients, or friends.
And for the privacy-conscious, the Lumina 4K Webcam has an aluminum camera cover that can be easily opened and closed as needed. This gives you complete control over when the camera is in use, ensuring that you can maintain your privacy whenever you need to.
Furthermore, Lumina 4K Webcam isn't just functional; it's also stylish. Its aerospace-grade aluminum body has a premium matte finish that blends in seamlessly with modern workspaces. And setting it up is easy and convenient, thanks to its compatibility with both Mac and PC.
Overall, the Lumina 4K Webcam is a top-of-the-line option for anyone who wants to elevate their video call game. Its advanced technology, impressive features, and user-friendly app make it a must-have for professionals, students, and anyone in between.
Best Overall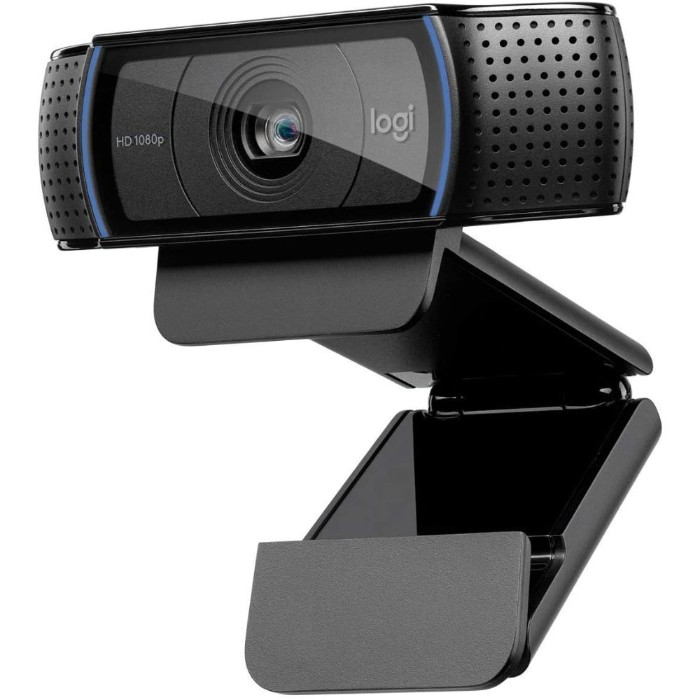 Why we love it
If you're on the hunt for the overall best webcam for your Mac, the Logitech C920x HD Pro Webcam should be your pick. With its impressive features and overall quality performance, it's no surprise that this webcam has managed to be at the top of our list.
This Mac webcam has the ability to deliver crystal-clear Full HD 1080p video calls and recordings at 30 frames per second. It's perfect for video conferencing and routine calls, providing you with a strong presence over the call with zero distortion.
Logitech C920x comes equipped with dual built-in mics that capture natural sound while calling and recording video. The advanced capture software, Logitech's Capture app, takes the video quality up a notch, making it easier for you to create and share video content.
Moreover, the webcam has HD lighting adjustment and auto focus features that ensure razor-sharp video and optimal lighting, even in low-light settings.
In short, the Logitech C920x HD Pro Webcam is an excellent device overall for video enthusiasts who prefer additional camera settings. The 3-month premium XSplit license helps to change or remove backgrounds without using a green screen.
What you should know
Whether you are using Windows 7, 8, 10 or later, macOS 10.6 or later, Chrome OS, or Android v 5.0 or above, the Logitech C920x HD Pro Webcam comes with the versatility to work seamlessly with almost any video-calling application you're using. This device allows you to communicate with loved ones, business associates, or friends far away from you.
The Logitech C920x HD Pro Webcam delivers HD 720p video quality on FaceTime for Mac or other video-calling clients that support this feature. Plus, you can have stunning professional-grade 1080p video footage with QuickTime Player or any other compatible video-recording software. This device comes in USB Video Device Class (UVC) mode, making it easy to connect and start using it immediately.
To put it simply, if you want a webcam that delivers excellent video and image quality, works with most video-calling clients, and is easy to use, then the Logitech C920x HD Pro is your best bet. Give this best Mac webcam a try and experience the difference for yourself!
Best Webcam for Mac: Frequently Asked Questions
Here are some frequently asked questions about the best Mac webcams to help with any confusion you might have:
What is the best Mac webcam available in the market?
The Logitech C920x HD Pro Webcam is the best Mac webcam available in the market. It offers full HD 1080p video calling and recording at 30 fps, clear stereo audio, HD light correction, and is compatible with most video calling applications.
How do I check the video quality of my webcam on my Mac?
To check the video quality of your webcam on a Mac, you can use the built-in Photo Booth app. Open the app and select the camera icon to switch to the front-facing camera. Then, take a photo or record a video to check the quality of the image and sound. You can also use third-party video conferencing apps like Zoom, Skype, or Google Meet to test your webcam quality in a video call.
Which webcam has the best audio quality?
The Logitech Brio webcam is known for its perfect noise cancellation and superior audio quality, thanks to its dual built-in stereo microphones which capture clear and natural sound.
Do the best Mac webcams come with a built-in ring light?
Not necessarily; the best Mac webcams come with advanced features that produce amazing results even in low-light conditions.
How do I connect my webcam to my MacBook Pro USB-C port?
To connect your webcam to your MacBook Pro USB-C port, you can use a USB cable that has a USB-C connector on one end and a USB-A connector on the other end. Alternatively, you can use a USB-C to USB-C cable if your webcam supports it. Simply plug one end of the cable into your webcam and the other end into your MacBook Pro's USB-C port.
What is video compression?
Video compression is the process of reducing the size of a video file through the use of video software or video apps. This is done by removing or compressing redundant or unnecessary data from the video file, allowing it to be transmitted or stored more efficiently.
Do Mac computers not come with built-in webcams?
Most Mac computers come with a built-in webcam, but the quality of the built-in Macbook webcams can vary depending on the model. For those who require higher-quality video and audio for professional use, it is recommended to use an external PC camera.
Can we do live streaming with Mac webcams?
Yes, Mac webcams can be used for live streaming. They are compatible with popular game streaming and live streaming apps like OBS, Streamlabs, and Zoom, which allow users to broadcast their content in real-time.