Products Reviewed:
Best Overall: Echo Frames Smart audio sunglasses
Best Splurge: Ray-Ban Stories Wayfarer
Best Budget: Razer Anzu Smart Glasses
Best for iPhone: Bose Frames Soprano Smart Glasses
Best with Camera: Ray-Ban Stories Meteor
It stands to reason that when more and more people are moving towards smart homes that they'd want everything to be smart. Enter: smart glasses. Smart glasses have been around in some form or the other for a couple of years, but they've really taken a leap forward in terms of tech this year.
There's a plethora of options available in the market, some offering basic smart tech while others are more advanced. It can be overwhelming to ensure what you are getting is the right one. So to make the task easier for you, we've scoured the market to find the top 5 smart glasses that are guaranteed to change the way you see the world.
In this post, we'll delve deep into the world of smart glasses and uncover their extraordinary features, design, and capabilities. Whether you're a tech-savvy individual or simply looking to upgrade your eyewear game, you'll find your answers here.
From AR capabilities to built-in headphones, our top 5 picks are packed with features that will make you feel like you're living in the future. We understand the importance of finding the right smart glasses that not only suit your needs but also offer comfort and durability.
So, sit back, relax, and get ready to experience the future today.
How do we choose the best smart glasses?
Before moving on to the list, it is important for you to understand the factors that can play a major role in favor or against a particular pair of smart glasses.
Design and Comfort: Keeping the perfect balance of aesthetics and comfort can sometimes be tricky. The best fix is to look for a design that not only complements your style but is also comfortable. You surely don't want to end up with a pair of smart glasses that are too heavy or ill-fitting.
Display: The display is another crucial factor that can make a huge difference to your viewing experience. It should offer clear images that are easy to read. The resolution and brightness of the display are also vital, especially if you plan to wear them outside quite often. For a good overall experience, choose a display with a high pixel density and contrast ratio.
Battery Life: Battery performance is the ultimate deciding factor for most users. That's why it's important to look for a pair of glasses with long battery life and quick charging options. This will ensure an extended operating time without constantly worrying about the remaining battery levels.
Connectivity: It's equally important to ensure that the smart glasses you choose offer good connectivity options, Bluetooth and Wi-Fi, for instance. This will allow you to connect your glasses to other devices and access the internet on the go.
Features: Smart glasses offer a range of useful features, such as voice assistants for hands-free use, built-in cameras for pictures and videos, and fitness tracking for health and wellness. Depending on your lifestyle, these additions can make your experience quite convenient and enjoyable.
Price: Smart glasses can range from budget to splurge. The most expensive glasses may not necessarily be the best choice for your specific needs. Look for glasses that offer good value for your money.
Best For iPhone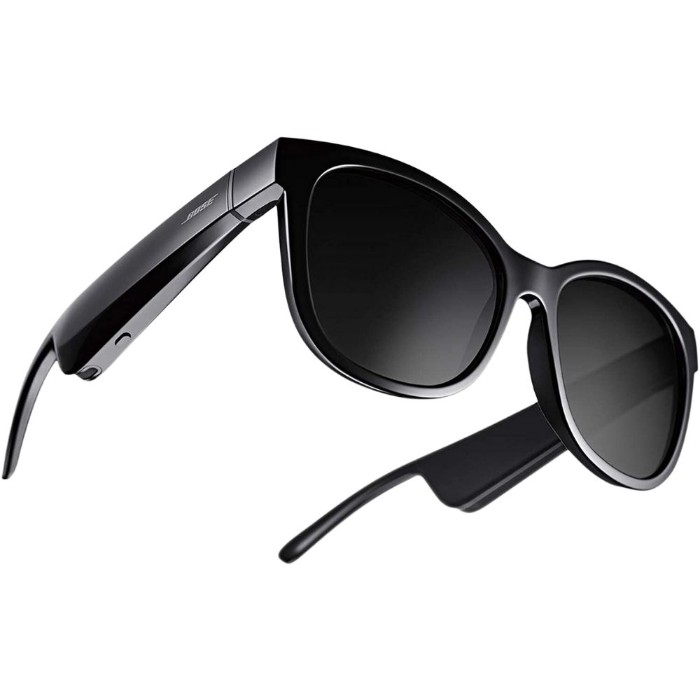 Why we love it
The Bose Frames Soprano smart glasses are the ultimate choice for iPhone users who are looking for a seamless integration of audio entertainment into their daily lives without compromising on style or safety. These cat-eye Bluetooth sunglasses boast Bose's signature open-ear audio technology, which delivers crystal-clear music. Unlike standard headphones that block out external sounds, these smart glasses let you immerse yourself in your favorite tunes without isolating yourself from your environment. In essence, they're perfect for outdoor activities such as hiking or cycling.
In addition to their superior audio quality, the Bose Frames Soprano comes equipped with polarized lenses, which effectively minimize glare and enhance visibility. This ensures that you can enjoy the outdoors without any distractions. Whether you're lounging by the beach or cycling through the countryside, these sunglasses will provide you with the ultimate combination of style, comfort, and functionality.
Moreover, these smart glasses are also extremely durable and long-lasting, with up to 5.5 hours of battery life on a single charge. This means that you can enjoy uninterrupted music playback all day long without worrying about running out of battery power. To make things even more convenient, the Bose Frames Soprano also features intuitive touch controls. The controls allow you to adjust the volume, skip tracks, and even take calls without ever having to reach for your iPhone.
What you should know
These luxury sunglasses from Bose Frames Soprano come in a sleek and stylish high-gloss black finish. The comfortable fit is designed with practicality and comfort in mind. It boasts a lens width of 55mm, a bridge width of 17mm, a temple length of 136mm, and a temple width of 142mm.
Another thing that sets these sunglasses apart is their advanced mic system, which effectively reduces background noise and wind interference. So, whether you're taking a call from a client or catching up with friends, you can do so with ease and confidence.
Pairing these Bluetooth sunglasses with your iPhone is a breeze, providing a powerful Bluetooth range that goes up to 30ft. And if you wear prescription lenses, you'll be pleased to hear that you can add them to these sunglasses, making them a practical and versatile accessory for both style and function.
Overall, these luxury sunglasses from Bose Frames Soprano are the perfect choice for anyone looking to upgrade their eyewear game. With a stylish design, comfortable fit, and superior functionality, they are the perfect blend of fashion and function. And, even though they are considered the best with iPhones, they also work equally well with other phones.
So whether you're an iPhone user or not, these sunglasses definitely deserve a shot.
Best with Camera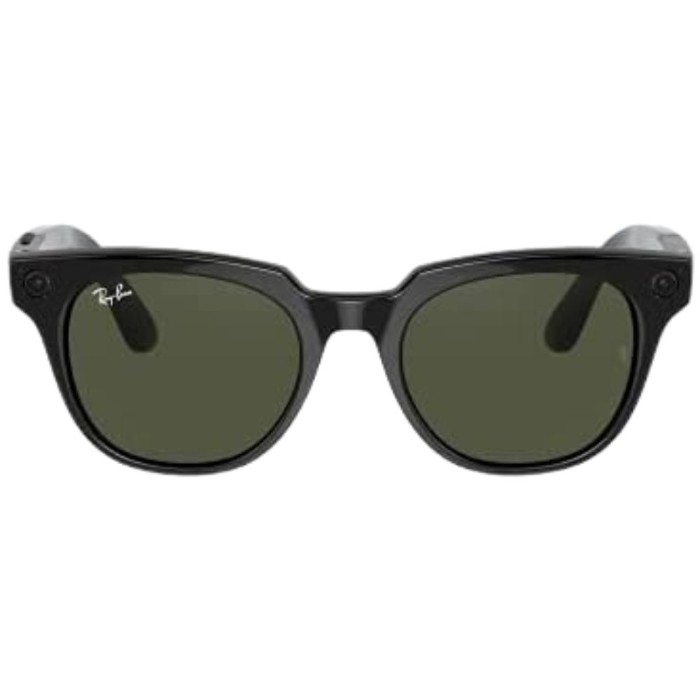 Why we love it
The Ray-Ban Stories Meteor smart glasses are the latest wearable technology that allows you to capture and share your experiences seamlessly. Its dual 5MP camera, positioned on both sides of the frames, enables you to capture high-resolution photos and videos hands-free, providing an effortless way to save your everyday experiences.
What's more, the smart glasses come with open-ear speakers and 3 built-in microphones that capture sound from all directions, ensuring rich and immersive voice and sound quality. This helps you listen to music and take calls without blocking out the sounds of the world around you.
The Meteor's hyper-responsive touchpad lets you take control of your smart glasses with a simple touch, swipe or tap to capture a photo, record a video or pause your song. Additionally, the Facebook Assistant voice control lets you take photos and videos completely hands-free, giving you the utmost convenience.
The Ray-Ban Stories Meteor smart glasses are not just a functional technology but also an accessory that will make you look and feel stylish. With the square wings and bold bridge, the Meteor's design is unique and adds an element of sophistication to your everyday look.
What you should know
The Ray-Ban Stories Meteor smart sunglasses offer an easy way to share shorter, more immersive moments with loved ones and friends or post them on social media.
One of the highlights of these sunglasses is the portable charging case that comes with them. This means that, even though they have substantial battery life, you don't have to worry about it draining quickly. It keeps your sunglasses charged on the go all day.
Ray-Ban has also ensured that privacy is maintained, with cameras not being used without user consent. This is a critical aspect, meaning that you can confidently use these sunglasses without worrying about any data breach or privacy compromise. Plus, user data is also not used for personalized ads so that you can feel completely secure.
All in all, the Ray-Ban Stories Meteor smart sunglasses are the perfect choice for wearable technology with a great camera, convenience, privacy, and functionality.
Best Budget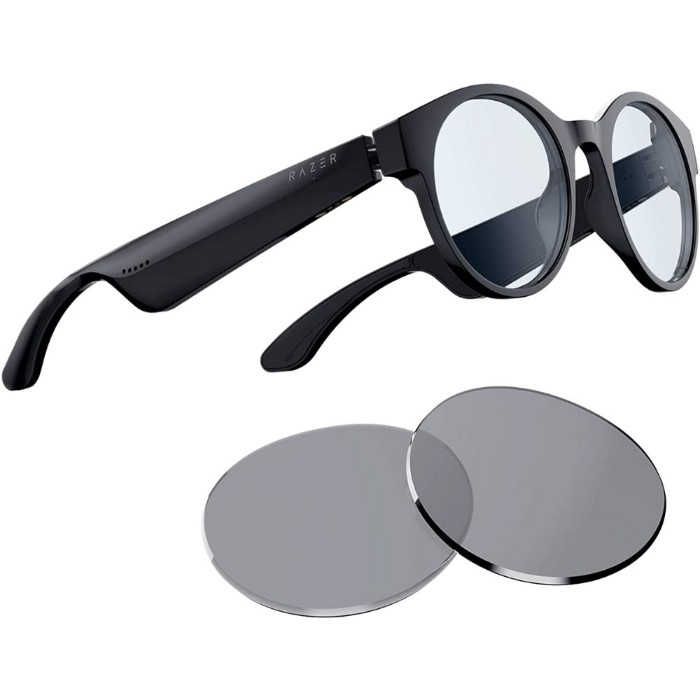 Why we love it
If you're looking for stylish yet affordable smart glasses, you might want to check out the Razer Anzu Smart Glasses. These glasses perfectly combine style and functionality, offering a premium feel without breaking the bank.
One of the standout smart features of the Razer Anzu Smart Glasses is its blue light filtering lenses. If you spend a lot of time staring at screens, this feature is a must-have as it helps protect your eyes from harmful blue light emitted by your devices.
Moreover, the Razer Anzu also comes with Polarized Sunglass Lenses that provide ample protection against glare and harmful UV rays. Whether you're sitting by a window or out in the sun, these smart glasses will come in handy.
In addition to eye protection, the Razer Anzu Smart Glasses also deliver high-quality audio with low latency. The glasses feature open-ear wireless audio that delivers smooth, uninterrupted audio without lag or stutter.
What you should know
Razer Anzu Smart Glasses boast built-in microphones and speakers; you can take hands-free calls while you're on the go. Plus, its touch-enabled interface lets you easily manage media playback, control phone calls, and activate voice assistants, all without ever having to take your phone out of your pocket.
And when you're ready to hit the road, you can rely on the Razer Anzu's long battery life. With over 5 hours of battery on a single charge, these glasses will keep you connected and entertained all day long.
But don't let the cheap price tag fool you. Despite being budget-friendly, the Razer Anzu Smart Glasses are built to last. These smart glasses are durable and designed to withstand tough outdoor conditions, making them a reliable wearable device for gamers and outdoor enthusiasts.
Best Splurge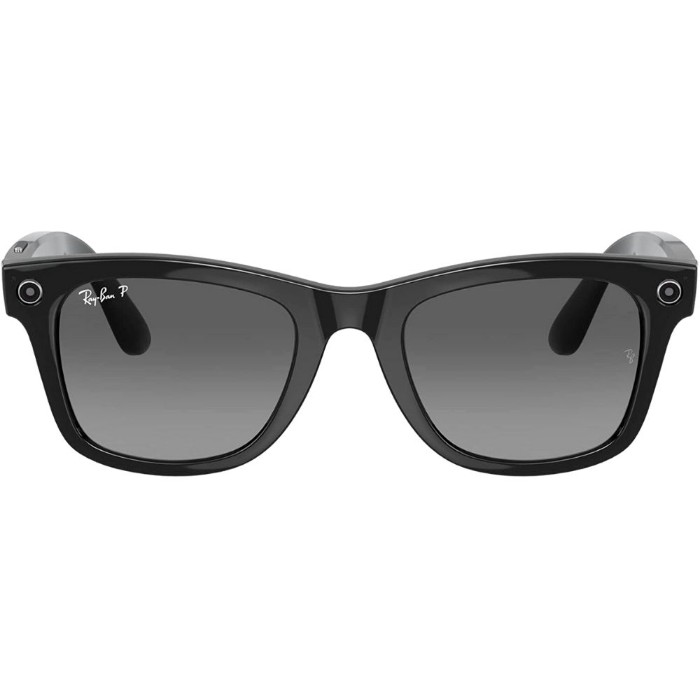 Why we love it
Are you the kind of person who loves to document everything around them? Whether it's a picturesque sunset or a hilarious moment with friends, the Ray-Ban Stories Wayfarer is the perfect companion for you. While these smart glasses cost a little more than some other options, the dual 5MP cameras make it worth the investment. You'll be able to capture high-resolution photos and videos in stunning detail for up to 60 seconds.
Moreover, the open-ear speakers and three built-in microphones are a game-changer for call and video quality. They pick up sound from all directions, so your voice and any background noise will be crystal clear.
Ray-Ban Stories Wayfarer smart glasses offer a new level of convenience with their hyper-responsive touchpad. With just a single touch, you can pause your music, snap a photo, or even record a video. No more fumbling around with your phone or trying to wrangle a separate camera; the touchpad lets you stay in the moment.
But the Facebook View App takes things even further. As your smart glasses operating system and content-sharing companion, it enhances your social storytelling in countless ways. You can import, view, and manage all your photos and videos right from the app with ease. Plus, the editing tools allow you to create truly unique content that captures the essence of your experience.
The best part? You can easily share what you've created directly to Instagram, Facebook, and WhatsApp, all from within the app.
What you should know
The smart glasses are designed in partnership with Meta, ensuring they are equipped with the latest technology available. With up to six hours of moderate use and three hours of continuous use, you have plenty of power to go through the day. Furthermore, the compact and portable charging case ensures that you're covered in case of need.
But what about privacy? Ray-Ban Stories puts your mind at ease, protecting your media from unwanted access. You have complete control over what you share and who you share it with. And let's not forget about style. These glasses boast the iconic Ray-Ban look, ensuring you rock a stylish accessory whether you're answering calls, taking photos, or listening to music.
All in all, Ray-Ban Stories are the perfect splurge smart glasses for those who want to stay ahead of the world.
Best Overall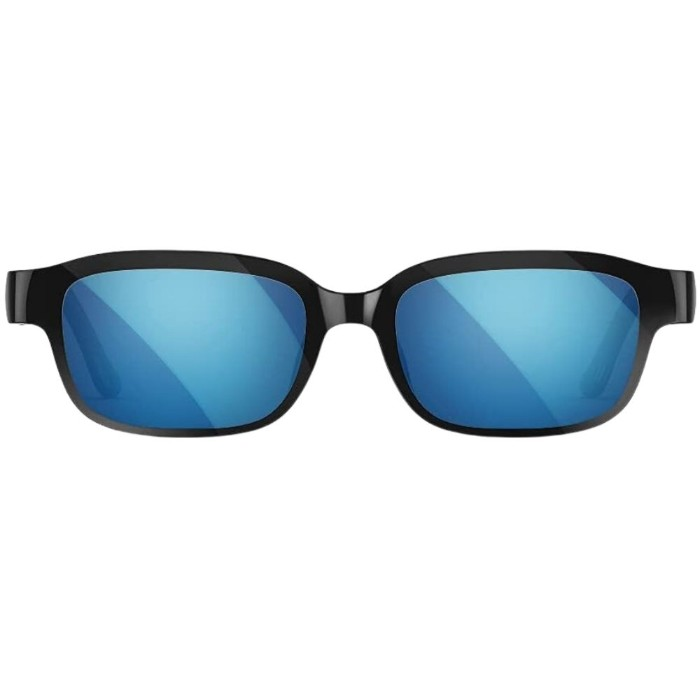 Why we love it
If you're in search of a versatile and cutting-edge wearable device that has it all, the Echo Frames Smart Audio Sunglasses are definitely worth considering. These stylish frames integrate with Alexa, Amazon's virtual assistant, which is absolutely great. With Alexa on your smart glasses, manage your smart home, create to-do lists, listen to music, and much more.
And if that was not enough, these AR glasses also have open-ear audio technology, which delivers high-quality sound that's perfectly balanced with your environment. This means that you can enjoy your music or podcast while remaining aware of what's happening around you. Additionally, the auto volume adjustment feature ensures that you never miss a beat, even in noisy environments.
The VIP filter is another smart feature that makes these frames ideal for those who value privacy and convenience. This filter allows you to prioritize the notifications and calls that you receive from your most important contacts while muting all others. This way, you'll never miss an urgent message from your boss or your spouse, but you can block out spam or unwanted calls from others.
The voice control feature on these glasses also deserves special attention. You can use voice commands to access popular apps like Spotify and Audible, making it easy to listen to your favorite music or book while on the go. This is particularly useful for multitasking, such as when you're driving, cooking, or exercising.
Plus, the privacy-focused design of these glasses is also a major selling point. The voice assistant is automatically muted unless you activate it by touching or speaking to your frames, which means that your privacy is protected at all times.
What you should know
Echo Frames smart sunglasses offer an impressive battery life of up to 14 hours that will keep you connected all day long. And if you're someone who loves to stay active and fit, then you'll be happy to know that these glasses are splash-resistant, making them the perfect workout companion.
Furthermore, with different color and lens options available, including prescription-ready lenses for those who need them, the Echo Frames are not only functional but also stylish. You can choose the color and lenses that best suit your personal style and needs. Plus, the glasses are compatible with multiple voice assistants, including Google Assistant and Siri, making them a versatile choice for those who use multiple smart devices.
Additionally, with microphones that are designed to pick up your voice and respond only to you, you can be sure that you'll have complete control over these smart glasses. The touchpad on the frame allows for easy navigation and control over your glasses, giving you the freedom to keep your phone in your pocket and stay hands-free.
In summary, the Echo Frames smart audio sunglasses offer a winning combination of connectivity, style, and hands-free ease of use that makes them the overall best option of 2023.
Best Smart Glasses: Frequently Asked Questions
Here are some of the frequently asked questions about smart glasses. Read on to get answers to the questions most people ask on the internet.
Are smart glasses a good idea?
Smart glasses can be a good idea for those who want to capture and share moments without having to hold a camera or phone. However, it ultimately depends on personal preferences and needs.
What do audio sunglasses do?
Audio sunglasses allow you to listen to music, take calls, and hear notifications through built-in speakers while protecting your eyes from the sun.
How can I check the audio quality of my smart sunglasses?
You can check the audio quality of your smart sunglasses by playing a song or making a call and adjusting the volume as needed.
How can I check the blue light filtering?
You can check the blue light filtering of your smart glasses by looking at a computer screen with and without the blue light filter on. If the filter is working, you should notice a reduction in eye strain and fatigue.
Are most smart glasses worth it?
It depends on your needs and preferences. While some smart glasses like Ray-Ban Stories have advanced features like camera, open-ear audio, and social media sharing, other smart glasses may have different features that cater to different needs.
How does augmented reality work?
Augmented reality overlays digital information onto the real world through devices such as smartphones or smart glasses, using computer vision and tracking to align the digital content with the user's environment.